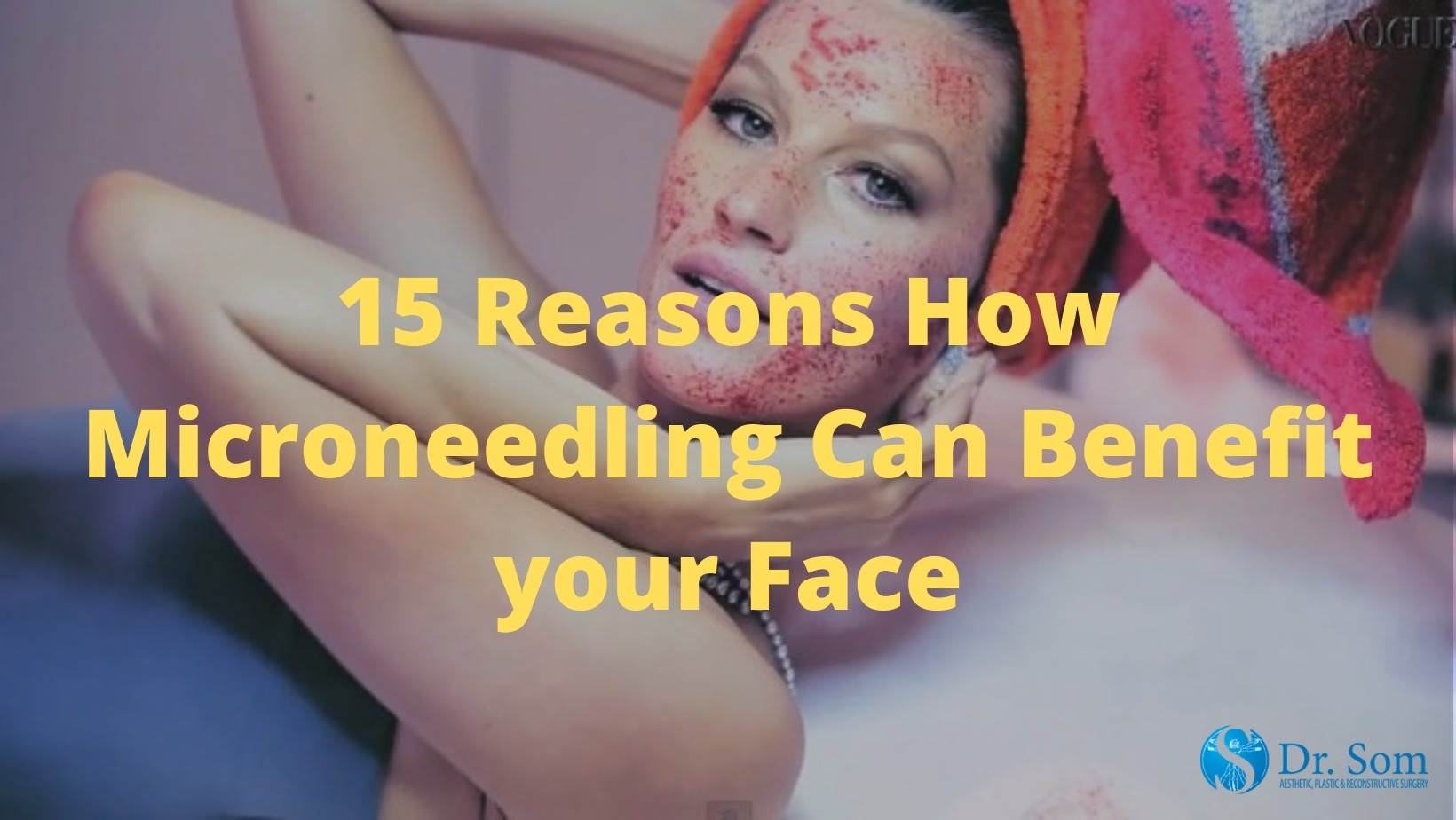 What is Microneedling and How Does it Work?
When looking at how microneedling and how it helps scars, acne, blackheads, aging, and other abnormalities we face daily, we must first look at how wounds heal themselves because this is the process of micro-needling. When a Microneedling doctor starts the treatment, he will poke tiny holes around the places your face needs to build better skin. These small holes create tiny wounds for your body to rush red blood cells to help produce collagen, and the new skin begins to form over the old tissue called granulation tissue. As these tiny peaks on your skin heal, your skin will be rejuvenated. The FDA-approved micro-needling device used in this treatment will be the SkinPen® which initiates hundreds of transient micro channels into the skin, called fractionated injuries. Without any cutting of the skin or heat, SkinPen® helps to promote healing and regeneration naturally.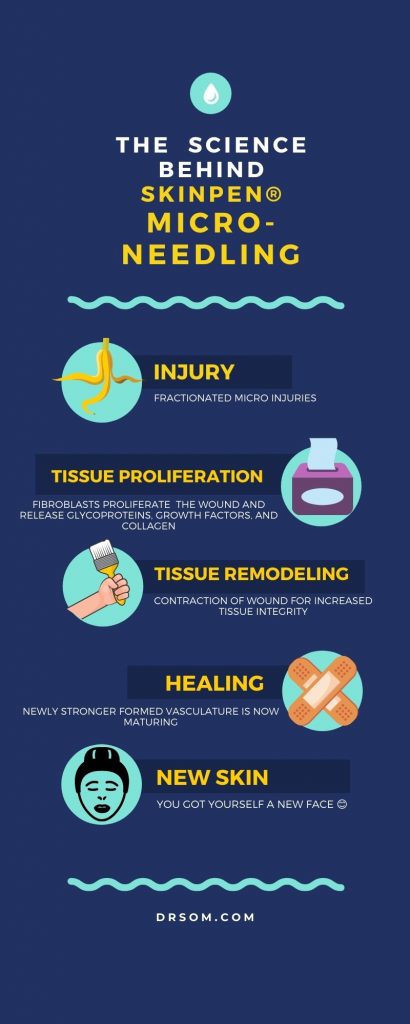 15 Benefits of Microneedling for the Face
Microneedling is Good for Scar Treatment
Doctors recommend microneedling for scars as it's a good way to heal your face with age old scar tissues. Microneedling is effective for burn scars, surgical scars, acne scars, sun damage, melasma, sagging skin, and large pores. Research has shown microneedling to reduce hyperpigmentation or more heavy scars. Some scars are not that friendly such as keloids which are large bubbles on the skin. Ask a medical professional when requesting microneedling for any scar tissue as some are very distinct.
Microneedling is Good for Acne Treatment
Acne is known to be one of the world's most irritating conditions people have with their skin. If you suffer from acne such as blackheads, pimples, whiteheads, then microneedling may be the answer. As the needle pokes tiny holes into your skin, they remove the source of build up and let your skin heal. Followed by the procedure, your skin should be better in line than before the procedure with acne. You may still develop small acne, but that will eventually go away in the later weeks after the treatment. 
Microneedling Improves Skin Texture
If you want a finer line without dull skin, microneedling may be the answer. Microneedling can improve skin tone and texture with new forming elastin and collagen that gets rid of the old rugged skin. Fine lines can be fairly treated and that horrible pigmentation issues lowered. Your overall face will be rejuvenated after a couple of weeks of healing.
Microneedling Helps Wounds and Heals the Skin
In 2012 Liebl Horst, a doctor from Germany, proposed a microneedling study that shows how microneedling could be used in treating chronic wounds. In reviewing the study, you can see how other parts of the body are healed by scraping dead skin and letting the body heal the area once more with a better more controlled area. This is the same way microneedling works on the face where you concentrate the body to fight a wound. This is why wounds respond so positively to microneedles and your skin regenerates and heals itself. Your body is potent, and when it notices your face getting injured, it sends everything it can to close that micro wound. This makes wounds disappear and builds a smoother texture of the area.
Microneedling is Good for Reducing Wrinkles and Tightening of the Skin
Generally microneedling is safe in getting rid of wrinkles and tightening of the skin. While aging, you're looking for a way to safely and non-surgically get rid of wrinkles, and microneedling is the answer. While microneedling is good for acne, it is also good at tightening the skin for a more youthful look so you can stop worrying about aging. You will get a more smooth, firm and less stretchy texture. 
Microneedling is Prevents Signs of Aging
Another benefit of microneedling is the way it prevents signs of aging. Due to the small injuries on your skin, your body will find a way to use the skin around to repair itself and in turn preventing aging, tightening the skin, and reducing wrinkles. Many studies have proven to show microneedling to be safe and an effective therapeutic option to fight skin abnormalities. 
Microneedling Promotes Skin Healing and Rejuvenation Naturally 
Microneedling is known to promote skin healing for many known reasons. When the skin is punctured with small needles, it creates small repairable wounds that the body rushes to send its resources to stop infections and intrusions. By doing this, the body creates new collagen in the area that it closes and heals the face where it would not originally or stopped healing after scar development. Microneedling is a great technique in the medical industry for skin healing and rejuvenation of skin. 
Microneedling is Safe for all Skin Types
People love microneedling and why doctors push the support for microneedling because of how safe it is for all skin types. Microneedling does not involve any chemicals, any surgical techniques, nor does it involve ray guns that fry your face. In people who have darker skin, usually laser treatment is not recommended nor does it rejuvenate the skin. Microneedling is a safe procedure that enters your skin's epidermis and uses the body's own defense to heal the skin which is great for any skin type. 
Microneedling is Non-invasive and Non-surgical
Microneedling is proven to be less invasive than any cosmetic and surgical procedures treated to a patient when it comes to facial abnormalities. With the collagen production that comes with microneedling, it is a strong attribute when it comes looking for a way to treat your face.
Microneedling has Minimal Downtime
When you're looking for how long it takes to heal a microneedling treatment, you should not worry as you can get back on your feet with no downtime. You will notice a lot of redness and itching yourself, but it will take another few days for your face to stop inflammation for appearance-wise. 
Microneedling Improves Collagen Production and Minimizes Pores
One of the best benefits of microneedling is the production of collagen and elastin after small wounds are formed to bring in healing of the face. You will see a noticeable difference before and after the treatment and see how the process involves the body's own mechanisms.  
Microneedling Provides Exfoliation
One of the side benefits of microneedling is how it helps exfoliation. This is best for dry skin and getting all the skin off through microneedling helps even out and smooth the skin to a natural look. After the procedure you should maintain the look and drink lots of water. 
Microneedling is Good Against Sun Damage
Microneedling is one of the best ways to treat sun damage. Discoloration of the skin caused by rays of the sun can be noticeable and have your skin very irritated waiting for your skin to repair when no damage is deep for it to occur. With microneedling treatments, sun damage can be erased and help with rejuvenating the skin back to its natural self.
Microneedling Improves Surgical Scars and Burn Scars
Microneedling for burn scars and surgical scars is very effective. Microneedling burn scars is an option for patients looking to get rid of thick scars and discoloration of the skin. With the natural healing methods of microneedling, it can align the skin in a more confident look. With Surgical Scars, microneedling will improve the tone and texture in the area for a more natural look. 
Microneedling is Fast
Microneedling is one of the fastest and least invasive treatments on the skin. Not only is the treatment fast, but its innovative SkinPen treatment also ensures patients immediate results over scars, fin lines, and signs of aging. If you're still using home rollers, you should stop because they are not as safe and effective as the SkinPen Microneedling service. 
Microneedling Side Effects
There are some short term side effects when using microneedling that include:
Redness
Inflammation
Swelling
Skin flaking
Itchy
Irritation
Rash
Bleeding
Bruising
Nothing to be alarmed about, but these side effects are normal with the face's healing process after microneedling. Within a few weeks you will hardly notice any side effects of the treatment. Just look at the bottom before and after microneedling of how well the treatment was done:
---
Dr. Som Plastic Surgery
If you're interested in learning more about Face Microneedling with a board-certified plastic surgeon, you can contact Dr. Som Kohanzadeh MD. You are more than welcome to call or send a form below the procedure in question, and we will contact you to set up a consultation. You are more than welcome to stop in our Beverly Hills Office located in Los Angeles County.
Previous Post
Next Post