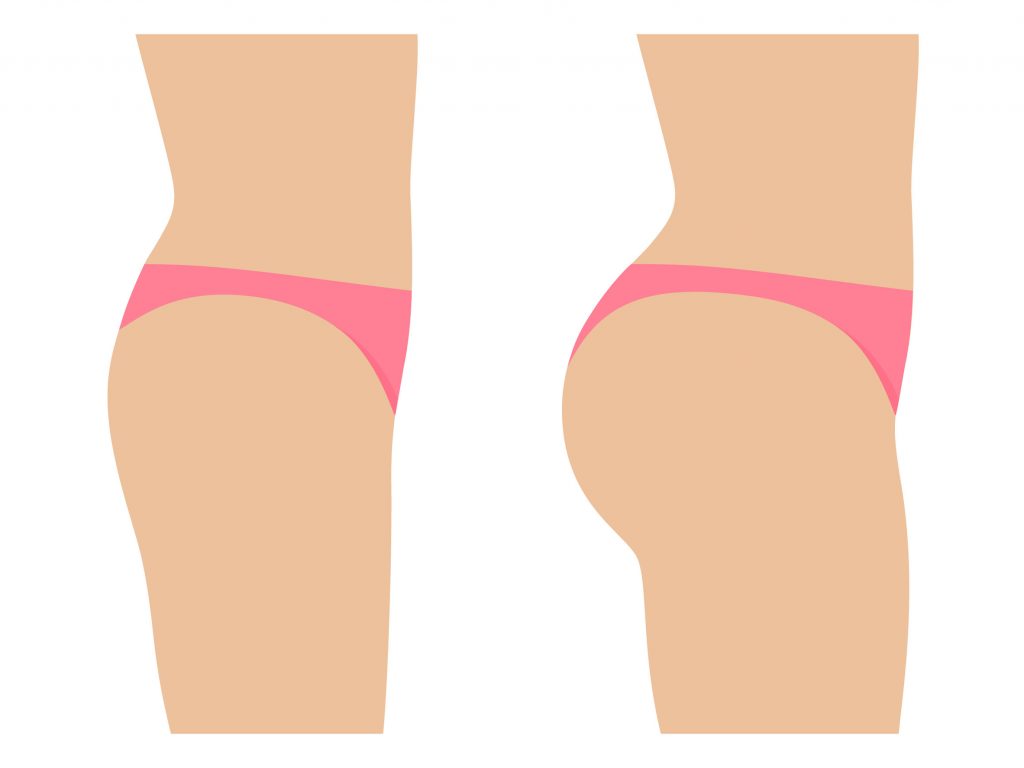 What is a BBL?
If you're searching for "BBL" or "what is a Brazilian Butt Lift", then you're probably wondering if a Brazilian butt lift surgery is right for you. In short, a BBL is a a surgical fat transfer procedure that takes fat from another part of the body and injecting it into the butt to create a toned appearance. There are many factors when choosing to have a butt lift and it comes down to what appearance you truly desire with as much natural-looking results.
The shape and contour of the buttocks are an important factor in an attractive and well-proportioned body. With the help of a Brazilian butt lift surgery, an experienced plastic surgeon can use specialized and well-suited fat transfer to the buttocks to make them rounder and filled in appearance.
A Brazilian butt lift or "BBL" for short, is a fat transfer procedure to augment the size and shape of the buttocks without using butt implants. Fat that is used for augmentation of the buttocks is usually taken from the abdomen, lower back, hips, or thighs. Fat is removed from these body areas with liposuction. After harvesting fat from the donor area, it is then processed by a special technique, after which it is re-injected into the buttock to get the desired shape and contour of the buttocks. A skilled plastic surgeon can set the entire lower body with this marvelous plastic surgical procedure, helping the patient to lose fat, while gaining a better figure in the backside.
Brazilian Butt Lift Surgical Procedure
A buttock enhancement surgery is usually done as an outpatient surgical procedure. It is done under general anesthesia or I.V sedation by a local anesthetic. BBL surgery is a complex surgery and
Brazilian Butt Lift surgery consists of four steps:
Fat is removed from the fat stores around your body i.e. abdominal region, thighs, lower back, or other areas with the help of a liposuction procedure.
The harvested fat is then purified and processed for transfer into the buttocks.
The plastic surgeon then injects the processed fat into the fat according to the need and the requirements set by you.
Both liposuction and fat transfer incisions are closed up with stitches. Your surgeon then applies a compression garment against the affected areas of skin to minimize your risk of bleeding.
Price of Brazilian Butt Lift Procedure
The average cost of the Brazilian Butt lift procedure ranges from $10,000 to $15,000 depending on the amount to be transferred and patient request type. If you see prices lower than this, research before going under the knife. You do not want to pay for a low quality procedure, especially if it means its going to effect your own appearance for the long run. Its suggested to have a procedure at this level with a board-certified plastic surgeon.
Is the Brazilian Butt Lift Procedure Safe?
Recent studies and data suggest that the BBL surgical procedure is no longer the most dangerous surgical procedure of plastic surgery. However, various factors play an important role in the safety of this procedure e.g. underlying illness, age, and body composition. According to American Society of Plastic Surgeons, with new technologies and finer surgical procedures, BBL is remarkably safe. Its always best to seek consultation with a plastic surgeon and see if you qualify.
Am I the Best Person for the Brazilian Butt Lift Surgical Procedure?
Although BBL surgery is a great option for getting desired size and shape of the buttocks, however, everyone has a different shape of the body and not all cosmetic surgical procedures are good for everyone. Some criteria should be met before electing for undergoing Brazilian butt lift surgery. One should have realistic goals and knowledge about the expected results and the recovery period of this surgical procedure. Generally, you are a good candidate for having BBL surgery if you meet the following conditions:
You are physically healthy and no current conditions that can effect the surgery
You should have a good skin tone in your hips and buttocks regions of your body
You should have enough fat stores in your body from where fat can be harvested for injecting into your buttocks
You should be able to avoid sitting directly on your buttocks for long periods for 1-2 months
What is the Recovery like for a BBL?
Having a Brazilian butt lift surgical procedure requires some special medication to cope up with the pain for the first few days after the surgery. Your doctor may advise you not to sit directly on your buttocks for about 2 to 3 weeks. You will also likely feel pain during the first week post surgery, which can be easily controlled with the pain medications which will be prescribed by your plastic surgeon upon your discharge from the hospital. You will need to sleep on your stomach for the first two weeks. A normal sitting position is usually allowed after 8 weeks of the surgical procedure performed. Usually, you will be allowed to return to your light daily activities in one week and normal life in 10 to 14 days. Your surgery office will guide you throughout the pre operation and post operation for best results.
Can you Really Lift a Flat Butt?
If you are wondering whether you can get your butt augmented by the Brazilian butt lift procedure, then wonder no more. Because the Brazilian butt lift procedure is a game-changer. And you can lift a flat butt and make it look natural with this procedure.
Brazilian Butt Lift (BBL) alternatives to get your butt big:
Sculptra
Emsculpt
Cool tone
Skin plasma
Evolve tone
Doing a BBL with Liposuction
If you're looking to combine two surgeries in one operation, then the BBL and liposuction is for you. A BBL surgery is perfect with a liposuction surgery because you will be taking fat from areas of the body, such as the stomach, and inputting that fat directly in the butt. In this scenario, you are in reality doing two surgeries in one. Your recovery time will be cut in half and you will lose fat in the parts you are concerned about, while adding fat into the area you desire.
BBL Before and After Photos
Looking at the image above, you can see how the shape of the buttocks from the left is different from the right after a BBL surgery. BBL has transformed the body so beautifully by adding a curve and providing a better tone. If you have a hard time toning your own body or your genetics has led you down in your behind, then a BBL would enhance all insecurities away and still provide a natural look. Since a BBL is only injecting fat, you are not injecting any chemicals or drugs for enhancement.
You might be considering a BBL to:
Enhance curves
Reduce fat from body
Help clothing fit and enhance look in bathing suit
Get a more youthful look
Improve balance
Questions to Ask Your BBL Plastic Surgeon
Here is a list of questions to ask your plastic surgeon during a consultation:
Are you a certified plastic surgeon?
How many butt lift surgeries like this have you performed?
What should I expect during and after surgery for my butt lift?
Were you specifically trained in this procedure?
Am I a good candidate for the Brazilian Butt Lift?
What are some risks that I should know about?
Do you take insurance or is it out of pocket cost?
Do you have an discounts or specials that I can benefit?
What surgical techniques will be used and is there new technologies that I should know about?
How long until I see results for my butt lift and how long will the results stay?
Do you have before-and-after photos from past clients?
How long will the surgery take?
BBL vs Butt Implants
Many times a Brazilian butt lift gets mistaken for butt implants as the same thing and its far from it. Unlike Butt implants where the surgeon inserts silicone implants directly under the muscle, a BBL uses fat transfer from an area in the body and directly injecting the it into the buttocks. If you want a more natural tone and curves, a BBL is the best choice to not have any external enhancements in the body. A BBL uses the body's own fat and keeps things natural after recovery. Butt Implants have a higher risk for infection and complication and its not for every type of body. BBL offers women with all sizes to proceed with the procedure if you have no current health issues. If you are thinking between the two, its best suggested to have BBL as your first choice before thinking about butt implants. Some people have little or no extra fat that can be transferred and there second choice would have to be butt implants.
Trends in BBL
The most recent trend in BBL has come straight from the popular video sharing social media app called Tiktok. The #BBL hashtag has more than 2.4 Billion Views. Surgery transformations has overall gone viral, especially for surgeries like nose jobs, breast lifts and face lifts. People not only want to show off due to trends, but also show off how good their surgery has gone. This constant upload of personal surgeries has shown how the society is shifting. Plastic surgery is becoming more and more socially accepted. People used to hide their surgeries and it would leave people guessing. Even Instagram picking up the trend as more than 1.3 million posts have been shared with just the hastag #bbl.
---
Dr. Som Plastic Surgery
If you're interested in learning more about the Brazilian Butt Lift procedure with a board-certified plastic surgeon, you can contact Dr. Som Kohanzadeh MD. You are more than welcome to call (310) 919-4179 or send a form below the procedure in question, and we will contact you to set up a consultation. You are more than welcome to stop in our Beverly Hills Office for a BBL consultation.
Previous Post
Next Post