Breast Lift Beverly Hills is a popular and signature procedure performed by Dr. Som Plastic Surgery in Beverly Hills. The breasts are a unique symbol for women and bring out natural femininity. To improve confidence and self-image, women can not only remove the sagging of their breasts, but they can look at their younger self. For some women, a breast lift is a must when it comes to physical health and for others, it's more for improving body appearance. These surgeries can be performed with little scarring that is usually hidden by the surgeon.
As the president of Cancer Institute of America, Dr. Som has a specialty in various breast lift surgeries. On this page, you will find everything you need to know about Breast Lift Beverly Hills. If you want to know more about raising sagging breasts, reducing the size of your areolas, and correcting nipples, then you're in the right place.
What is Breast Lift Beverly Hills?
Beverly Hills Breast Lift or mastopexy is a plastic surgery procedure with the main job of lifting the breasts. In other words, you will be restoring the firmness and shape of your breasts due to aging, gravity, genetics, and many times after a pregnancy. By bringing the breasts back to their youthful position, patients will be free from sagging breasts and enjoy having a better appearance. Removing redundant skin and tightening the breast tissue will not only make you lose weight but also give you a beautiful appearance without any complex surgeries. As many expert breast lift surgeons such as Dr. Som, specialize in making the surgery look as natural as possible.
Benefits of Breast Lift Surgery in Beverly Hills
Expert Restoration of Pregnancy Breasts
Sagging is common following pregnancy, especially if you breastfed. A breast lift can help restore your breasts to a more youthful position.
Lift Breasts After Weight Loss
Weight loss can leave you with drooping breasts that can be easily fixed with a breast lift and fat transfer. You can have a more attractive look after your weight loss.
While you age, your skin and tissues do the same. Your breast tissue starts to sag and droops down and you lose your perky breasts. Breast lifts reverse this issue and provide the more beautiful look you were looking for.
Types of Breast Lifts in Beverly Hills
Scarless Breast Lift
A Beverly Hills surgeon will use an electrical device such as an Inmode Radio Frequency Assisted Lipolysis (RDAL) to start the process of burning fat cells with a tiny cannula of electrical current that goes beneath the skin's surface. This causes a tighter and firmer chest and makes it the least invasive treatment for a breast lift.
Crescent Breast Lift
The crescent breast lift is a minimal invasive scarring procedure that is best for women with smaller breasts with little sagginess and can relocate nipples 1 inch lower and higher from the original spot. The incision runs halfway down the outer edge of the areola or around the nipples. 
Donut Breast Lift
The donut lift technique is a great option with only one incision around the areola. For women with mild sagging who would love a slight breast lift, this is the surgery for you. This would mean a more comfortable recovery option and will have no vertical scars showing. This surgery is usually done with breast augmentation surgery.
Lollipop Lift
A lollipop lift or vertical breast lift is a technique for reshaping the breasts without touching upon any sag. The incision will be located around the areola and one straight incision running from the bottom to mid crease of the breast. This is why it's called a lollipop lift because the incision comes out to look like a lollipop. 
Horizontal Lift
For women who want their nipples to point upwards, this is the surgery for you. This is with only horizontal incisions and is used to reduce the appearance of scarring near the areola and places that can be visible with clothing.
Anchor Breast Lift
For a significant change in appearance with the most incisions, a Beverly Hills plastic surgeon will recommend this surgery for women who have extreme sagging and are over 45. It will result in the most scars. Nevertheless, you will have a huge transformation compared to your original look.
Breast Lift Beverly Hills Before and After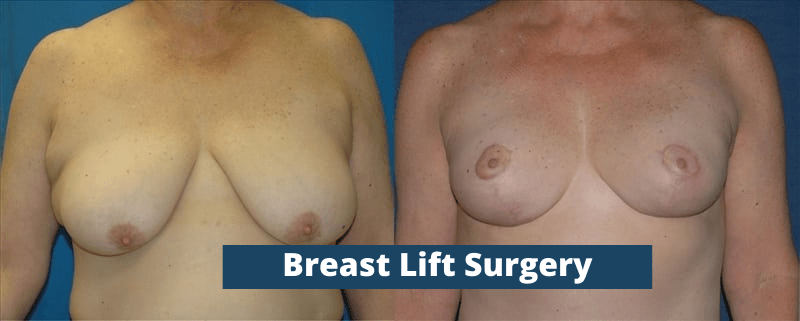 Breast Lift Recovery After a Beverly Hills Breast Lift
Breast Lifts are common and safe when performed by a Beverly Hills board-certified plastic surgeon, but it's important to follow any post-operative self-care instructions. While you heal, it's important to not put pressure on the given areas and avoid any strenuous activities. You should be back to normal with a full recovery on average from 4-7 weeks and feel no discomfort within a week. 
The Cost of Breast Lifts in Beverly Hills
The cost of a Breast lift in Beverly hills can range from $8,000 to $10,000 on average depending on the surgery center and the surgeon who will perform your operation. While insurance may cover a portion of the procedure, a breast lift is known as a cosmetic surgery where usually no insurance will help. 
The typical payment can be broken down to fees below:
Surgeon's fee
Operational facility fee
Medication expenses
Anesthesia cost
Staff fee
Lab tests fee
Contact a Beverly Hills Plastic Surgeon
To get an expert in the field of plastic surgery in Beverly Hills, then you should visit Dr. Som Plastic Surgery located in Beverly Hills, CA. Dr. Som has helped hundreds in getting beautiful breasts and subsequently minimizing the appearance of scarring. If you're interested in breast lift surgery with a Beverly Hills breast lift surgeon, then contact Dr. Som to request a consultation.