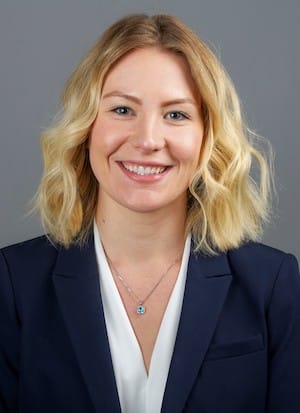 Kelsey Barth, PA-C is a California licensed and NCCPA Board Certified Physician Associate. She began working with Dr. Som in 2020 and serves patients primarily in the Beverly Hills area.
Kelsey is passionate about providing patient-centric care and strives to promote an individualized patient experience that focuses on attaining the unique aesthetic goals of those she cares for. She practices in outpatient, inpatient, and operative settings. Kelsey assists in a wide variety of complex cosmetic and reconstructive surgeries, in addition to having her own clinic patients for cosmetic procedures including BOTOX® injections, dermal fillers, microneedling, and ThermiVa® vaginal rejuvenations, as well as ThermiSmooth® skin tightening, scar, and rejuvenating treatments.
Originally from the Midwest, Kelsey earned a double Bachelor of Science degree in Neurobiology and Communicative Disorders from the University of Wisconsin – Madison in 2014. Throughout her undergraduate career, Kelsey was actively involved in both clinical care and research, employed as a Certified Nursing Associate at UW Hospital as well as a research intern for a campus laboratory. She was later accepted into Rosalind Franklin University of Medicine & Science, where she completed her Master's degree in Physician Associate Practice in 2019. During the intensive two-year program, Kelsey focused not only on her studies, achieving the Dean's Award for Scholarship, but also on community outreach.
Working under the skilled plastic surgeon in Beverly Hills, Kelsey aims to deliver exceptional service through the combination of advanced medical technologies and compassionate care. She enjoys helping her patients throughout their journey toward a more confident, natural beauty.
If you have questions about available treatments, or if you would like to schedule a consultation, please contact us today.