What is Breast Reconstruction?
Breast reconstruction is surgery to recreate one, or both breasts after surgery to remove the breast tissue usually for cancer or cancer risk.
What to Expect at Your Consultation
During your consultation with Dr. Som Kohanzadeh—our experienced board certified plastic surgeon—he will discuss your overall treatment goals to help create a surgical treatment plan that is right for you.  This includes a thorough discussion of your overall health status and any pre-existing health conditions, physical examination and measurements of the breast(s), and photographs for surgical planning.  Then he will discuss outcome expectations including size, shape, and symmetry.   Surgery for breast reconstruction can sometimes be done at the same time as your mastectomy, or can be staged depending on your overall treatment plan.  Either way, surgery is usually offered in the hospital setting.
"I seriously can not say enough about how wonderful Dr. Som is. He has been doing my breast reconstruction from a double mastectomy from breast cancer. He is skilled, knowledgeable, and he has the best bedside manner of any doctor I've ever met. He really and truly cares about each and every one of his patients. He goes above and way beyond any doctor I've met or even heard about. He is the doctor of a lifetime."
Implant-Based Reconstruction
Implant based reconstruction uses breast implants to help recreate the volume and shape of the breast.  Often times, biologic mesh placement may help create a 'sling' for your implant to lay in, creating a more natural breast shape.  During your consultation, Dr. Som will discuss if you are a candidate for immediate reconstruction with a permanent implant, or a tissue expander for a staged procedure.  Typically, you should expect a drain in the operated breast, which is removed 1-2 weeks post operatively.  The goal of the drain is to reduce fluid build-up, or seroma/hematoma of the breast.
What to Expect in a Staged Reconstruction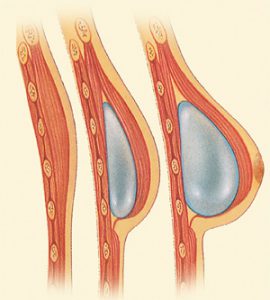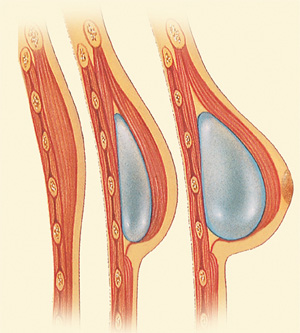 Tissue expanders are implants that come with little to no saline filling placed at the time of the mastectomies. They allow for gradual filling of the implant until your goal volume is achieved.  The filling is done in clinic using sterile technique and is performed on a weekly basis. Expansion begins after the surgical incisions are healed (on average 3-4 weeks post operatively).   After your goal volume is reached, often times one extra filling of saline is recommended in preparation for the final implant. Tissue expander exchange for final implant is performed 6-8 weeks after completion of expansion in a same day surgery (not requiring hospitalization).
Of note, if only one breast is affected, you will have the option for reconstruction of the single sided breast, or for improved cosmetic symmetry, surgery may be offered to help shape the other breast (such as a breast lift, or breast augmentation).
Autologous Reconstruction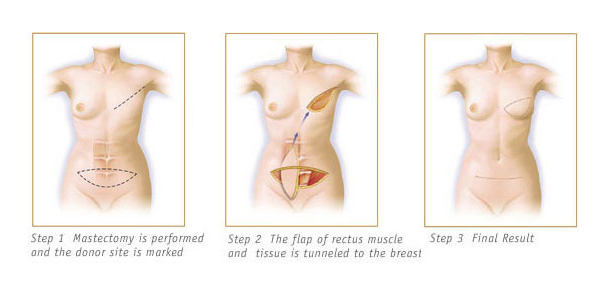 Autologous reconstruction refers to the use of one's own tissue for remaking of a new breast. The most commonly used site is the abdomen. This is where a portion of the abdominal tissue, is harvested and transported to the chest to recreate a breast, typically referred to as a "TRAM flap". There are multiple variations of this technique including microsurgical or "free TRAM", where the blood vessels feeding these tissues are isolated and using a microscope reattached in the chest, versus a non-microsurgical technique or "pedicled TRAM", where the native blood supply to this area is left intact and the tissue is tunneled to the chest.
This is a much larger surgery adding several hours to the procedure per side, as well as adding an additional site (the abdomen) to recovery. Along with the additional surgical site there are additional risks including the risk of a prolonged surgery, as well as donor site risks including hernias at the surgical site.
The benefits of autologous reconstruction are that they avoid implant usage and can behave more like natural breast tissue as they are composed mostly of the abdominal tissues.
Typically recovery is extended to 3 months with this procedure, with the predominance of the recovery associated with the abdomen and avoidance of strenuous activities, in particular, any activity that would activate the abdominal muscles. Patients are asked to wear an abdominal binder during this period to help support the closure as well as minimize occurrence of hernias.
To learn more about breast reconstruction, what procedure may be right for you, please contact Dr. Som.
Breast Reconstruction Beverly Hills & Los Angeles
If your in the area and want a Beverly Hills Breast Reconstruction or Los Angeles Breast Reconstruction, then you don't need to search any further. Breast Reconstruction expert Dr. Som Kohanzadeh and his staff will guide you to your dream figure or reconstruct any breast deformities that you may have.
Dr. Som has helped hundreds on getting beautiful breasts and subsequently minimizing the appearance of scarring. If you're interested in breast reconstruction surgery, we are a tap away from consultation with all the questions that you may have.