When looking into the do's and don'ts of breast augmentation, you should consider everything before and after to get a head start. Breast augmentation surgery is getting more and more popular these days as women are often not satisfied with the shape and look of their breasts. Breast lift surgery is the best way to get the desired look and shape of your breasts, and the number of these surgical procedures is rising each year, especially in 2021.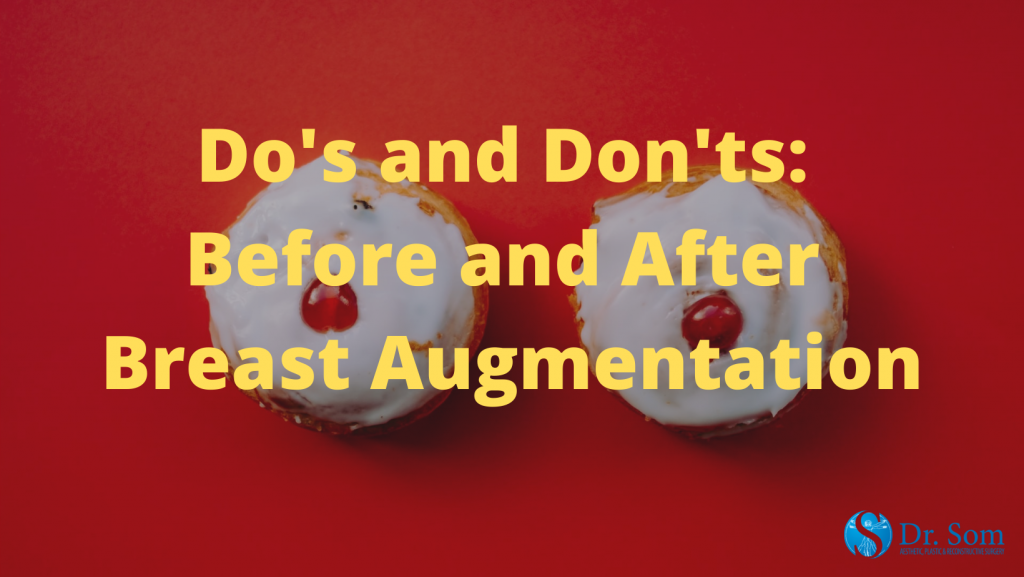 What Is Breast Augmentation?
Breast augmentation surgery is often referred to by patients as a "boob job." It increases the size or improves the contour of the breast using breast implants or fat transfer. Breast augmentation cosmetic surgical procedures can not only help in getting more rounded and natural-looking breasts. Still, it can also help regain the lost breast size, for example, after losing weight or after pregnancy. Breast implants are often used for breast reconstruction after mastectomy or an injury. According to Healthline, you should wait a certain period before getting any breast work done, including implants.
Before Breast Augmentation Surgery
At this point, you have done your research about breast augmentation surgery, made your decision, have chosen your breast augmentation doctor, and have scheduled your date for your breast augmentation surgery. Now, there are some essential points for your preparation before your appointment with the breast augmentation doctor and on the day of the surgery which you should follow for your smooth surgical procedure and recovery.
Do's:
Get up early:
On the day of the surgery, get up early and give yourself enough time to pack and get ready. There is no need to rush on your big day, it will also increase your stress level. So getting up early in the morning will be significant so that you can reach in time on your appointment day.
Don't wear makeup and jewelry:
On the day of the breast lift surgery, come to the clinic on time and don't wear any makeup or jewelry, as you have to remove any jewelry before going to the operation room, so it will be wise not to wear at all and keep these things at your home, safe and secure. Try to wear as little with comfortable shoes. Bring some warm clothes for after the surgery to keep warm after waking up from anesthesia.
No contact lenses:
If your eyesight is weak and you are using contact lenses, skip their usage for one day and use your glasses on your breast lift surgery day. It's not a good idea to wear contact lenses during surgery.
Don't:
The following are some important points to consider before undergoing breast augmentation surgery. Follow these pieces of advice for preparing yourself for breast augmentation surgery:
Eating or eating after midnight:
Eating or drinking before any surgery is prohibited. The prohibition period is usually 6 to 8 hours; the term is called NPO (Nil per oral). That means you cannot eat or drink after midnight of the night before your breast lift is planned. If you eat or drink after midnight your surgery will be delayed as no anesthesiologist will give anesthesia without following this precaution.
Don't be Stressful:
You have done your research well and have come to your decision for breast augmentation surgery. So, don't spoil your big day by taking upon a lot of stress about the breast augmentation procedure. Stay calm and relax during the day and the night before your surgery. Come to the clinic with a relaxed mind as your body needs to be calm and in hormonal balance.
Stay informed:
Stay in touch with your phone. Anesthetists from the hospital may contact you on the phone regarding your preparation for surgery and may also guide you regarding the breast lift surgery.
Don't smoke on the day of the surgery.
Don't use recreational drugs on the day of the surgery
Don't use herbal medicines when your surgery appointment date is approaching
After Breast Augmentation Surgery:
Do's:
Having breast surgery is an exciting time for any woman, but you should be careful after breast augmentation surgery for proper healing and keeping the results for a longer duration. So, always try to follow these important steps:
Get plenty of rest after having breast augmentation surgery and allow surgical wounds to heal correctly. Remember to take some days off from your work for proper rest at your home.
Try to sleep in a fetal position to avoid putting more pressure on the surgical site. Use the support of the pillows. This will help the wound to heal during sleep.
Take your medication regularly, exactly as prescribed, and never skip a dose. If you feel uncomfortable, contact Dr. Som, he will guide you regarding your medical treatment course.
Take a healthy diet. A healthy diet along with medicines is essential for your wound healing.
Don't:
Sleep on your stomach. It will put pressure on the breasts and will affect the normal healing process.
Lift heavyweight during your first week of recovery. You should also avoid lifting your child. Lifting heavy weight will put stress on the healing wound, and it also can affect the results of breast augmentation surgery.
Go swimming. By swimming, you might get bacteria that can make your surgical wound infected and complicate the healing process.
Smoke or use any products related to tobacco. It's a known fact that tobacco consumption delays the wound healing process.
Any hard labored exercise; it will worsen the wound condition and open up the stitches used in breast lift surgery procedure.
How Long Does a Breast Augmentation surgery take to Heal?
After the breast lift surgery, your breasts will be wrapped in a gauze dressing and an elastic bandage or support bra will be advised to allow the maximum healing of your breasts in less time. Right after surgery, you will be taken into recovery where you will rest for some time after getting out of anesthesia and you will be discharged once you are stable enough to go home. Sometimes your breast augmentation doctor may also keep you for a night at the hospital to observe your condition for a night.
At the time of discharge, you will be given clear instructions about wound care and physiotherapy to help you cope with the healing process. Your breast augmentation doctor will also prescribe you medicines along with exercises and support bra for rapid recovery of breasts. You may also be asked to cleanse your wound sites to avoid infection. Your medication will include pain medicines and antibiotics to protect your incision site against infections.
Acute pain usually subsides in one to five days. It's also possible to bleed from the incision site in the first several days, but you don't need to worry. If bleeding is not subsiding, you can contact Dr. Som. Four weeks after surgery, you will be able to return to your everyday daily life.
---
Dr. Som Plastic Surgery
If you're interested in learning more about Breast Augmentation with a board-certified plastic surgeon, you can contact Dr. Som Kohanzadeh MD. You are more than welcome to call or send a form below the procedure in question, and we will contact you to set up a consultation. You are more than welcome to stop in our Beverly Hills Office located in Los Angeles County to ask questions about breast reconstruction.
Previous Post
Next Post