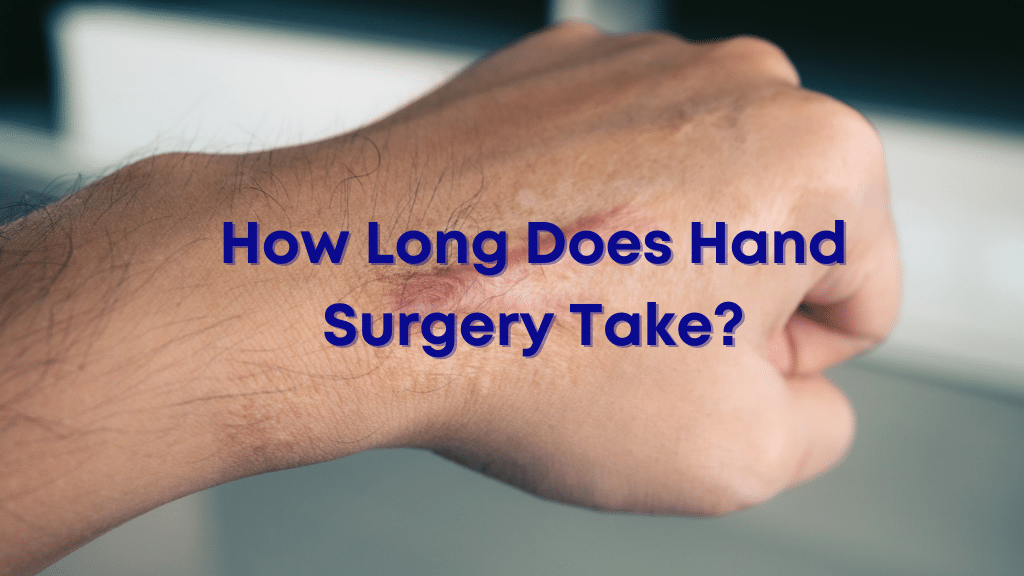 How long a hand surgery takes is one of the questions one may ask when going into surgery. Hand surgeons in a surgical center are careful to maximize the cosmetic look, survivability and functionality of the hand. Hand Surgeons try to make this procedure as comfortable and precious as possible for their patients. Hands are one of the most complex and most frequently used limbs of the body and surgeons know this when going into the operating room, and offer both operative and non-operative treatment options. So we know what it is, now the more important question, how long does hand surgery take?
How Long Does Hand Surgery Take
Depending on the type of surgery you may have, hand surgery may take anywhere from 30 minutes to 1 hour long. Some hand or wrist surgeries may be less complex than others and can take less than 30 minutes. This all depends on the patient's requirements, type of surgery conducted and injuries reported before entering surgery. Other than emergency surgeries, most patients will start with a consultation with a reconstructive hand surgeon to talk about the issues that they are experiencing and how it can be resolved by surgery. 
When Do You Need Hand Surgery?
A person would usually go into a consultation with a hand or wrist surgeon when they recently experienced an injury that was causing pain or developed a condition that may need treatment. Dr. Som Kohanzadeh, a reconstructive surgeon, recommends surgery as the last option after you have tried all non-surgical treatments. 
Usually patients who come in are noted to have the below conditions and need treatment due to injury size, disorder and level of pain. Treatments offered by surgery for the hand and wrist include:
Carpal tunnel 
De Quervains Tenosynovitis 
Trigger finger 
Dupuytren's Contracture 
Ganglion cyst of the wrist or hand 
Hand or wrist infections 
Hand or wrist fractures (Both open or closed) 
Tendon repair/reconstruction 
Tendon lengthening 
Tendon transposition
Hand Infection
Arthritis
Trauma
How Long Does Hand Surgery Take To Heal
With different human complexities and surgery types, the time it takes to heal from a surgery depends. There are general recovery timelines for each hand surgery type, but the general consensus is it depends from person to person. Small procedures can take anywhere from 3 to 6 weeks to heal the hand and more extensive procedures of the hand can take 6 to 15 weeks to heal.
During consultation, your doctor will provide your recovery timeline depending on the surgery you will be having, but it all depends on the person's current health condition and physical shape. Pain and soreness following the surgery is normal and should not be worried about, but pain medication may be prescribed to eliminate the pain. Recovery for hand surgery all depends on the severity of the case and the type of surgery performed for the patient. 
What Happens After Hand Surgery
After hand surgery, you will need someone to drive you home to rest. Your hand will take time to heal, so you should avoid daily activities for a few days until you are properly situated with your impairment. In general, if you do an activity and it hurts or requires your hand, avoid it until you are fully healed. The more time you provide your hand to heal, the better the outcome of surgery.
It is important to ask for help even if you're independent. Do rely on family and friends to help you during the first week out of surgery and follow all of the doctors instructions to continue the healing journey. For some patients, recovery may involve physical therapy and that will begin to help you regain your strength and normal range of motion. 
Hand Surgeons in Los Angeles, CA
If you're looking for a hand surgeon in California, then you can visit Dr. Som's surgery center in Beverly Hills.  Dr. Som, a double board-certified reconstructive surgeon, will help you in the process and explain all the questions you have before your surgery. As one of the leading hand surgeons in California, Dr. Som will create a professional and comfortable environment for you to open up on your medical needs. Call Dr. Som today at (310) 919-4179 to arrange your consultation with an experienced Beverly Hills hand surgeon and restore the normal functioning of your hands and wrists.
Previous Post